Hello!
I'm just now finally getting around to posting the names of the winners of the
"Name the Cottage"
Contest.
So sorry for the delay!

Cottage Name:
"Screened Inn"

Submitted by:
Jonathan and Andrea Forsyth (and Dallin too!)

Master Bedroom Name:
"Lettered Love"

Submitted by:

Twin Bedroom Name:
"Sand & Sea"
Submitted by:
Vickie

Yellow Bedroom Name:
"Lemonade Mermaid"
Submitted by:
Sherri in Sammamish



Congratulations Gang!
And thank you for submitting such wonderful names!
Please drop Diane a line at Diane@MermaidCottages.com to claim your prize packages.
————————————————————————————-
And speaking of contest winners…
The winner of the Haley's Cottage Lemon-Scented Soy Candle is…
West Coast Nester

Congratulations Miss WNC!
Please drop me a line at LaylaPalmer@aol.com to claim your pretty little prize!

Happy Tuesday!
————————————————————————————-
PS-
Just for fun, Kevin and I went through all the comments and wrote down our favorite cottage names too.
Did you submit one of these?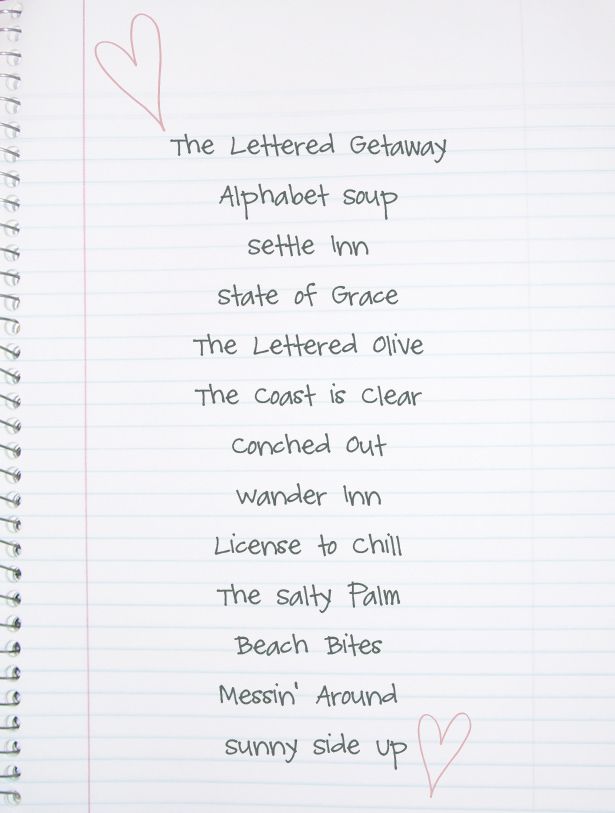 Guess we'll just have to fix up 13 more beach cottages so that they can all get used!

————————————————————————————-
Need design help?
Need help arranging your furniture?
Check out my e-book!