Remember when I blogged about the (cute) shoes that were killing my feet?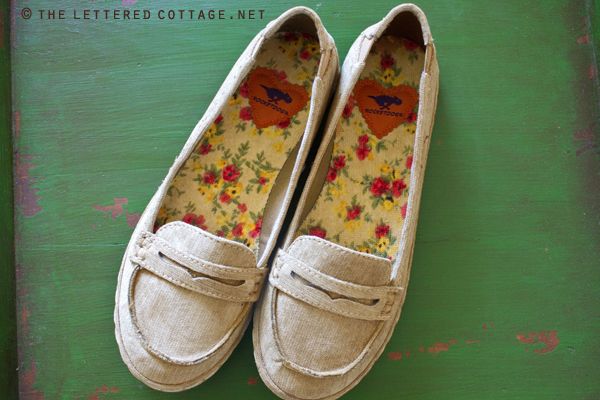 Well, I'm happy to report that my Rocket Dogs aren't barkin' anymore!
A whole bunch of friendly folks left comments on that post about using frozen bags of water to stretch them, and it totally worked! Woo hoo! A sweet gal named Margitta sent a link to this instructional video which was super helpful too…
I followed Michelle Phan's video instructions to a T, and enjoyed wearing my newly-comfortable kicks all day yesterday! I'm talkin' FOUR different flea markets worth of walkin', baby!
The only problem I have with my shoes now is that they're not the right color.
Here's what they looked like on the Rocket Dog website I ordered them from…
Kind of a camel-colored corduroy, right? Well, as you can tell from my photo at the beginning of this post, they actually look more light beige than camel-colored in real life. Boo- but not the end of the world. Now, however, they're a dirty beige color. Boo! See, when I took them out of the freezer to let the ice bags thaw, I accidentally left them in the sink for a few hours, versus the 20 minutes Michelle suggested in her video. Oops.

I stuck wads of plain white paper towels inside each of them to try and soak up some of the moisture, but when I pulled the paper towels out, they had black stuff all over them, and now my shoes have darkened because I guess the black stuff soaked into the fabric or something. ?
I washed them in the washing machine to see if that would help, but it didn't seem to make a difference.
I wore them out flea-marketing yesterday because I was so excited that they were comfortable, but I'd really like them to look a little…cleaner. (Especially that left one- grrrr.)
So my next question for you, shoe-fixing-aficionado, is: can I/should I dye them a different color?
Sincerely,
The girl with the newly-comfortable/newly-dirty beige-colored shoes. Especially the one on the left.

PS- We're still seeking folks to join us in the Atlanta area for our pilot episode shoot! Click here for all the details!
___________________________________________
Join us on Pinterest, Twitter and Facebook!
____________________________________________
Need design inspiration? Need help with space planning?
Check out my e-book!