Kevin found a heart-shaped locket wedged in the seat back on the passenger side of our car a couple of days before we left for Peru…
Neither of us knows where it came from, but strangely enough, I had been wishing for one that week. Packing and preparing left little time for locket shopping though.
I dug an old gold chain out of one of the moving boxes in our bedroom and clipped the two of them together, for keeps…
I nestled heart-shaped photos of my grandma and grandpa inside…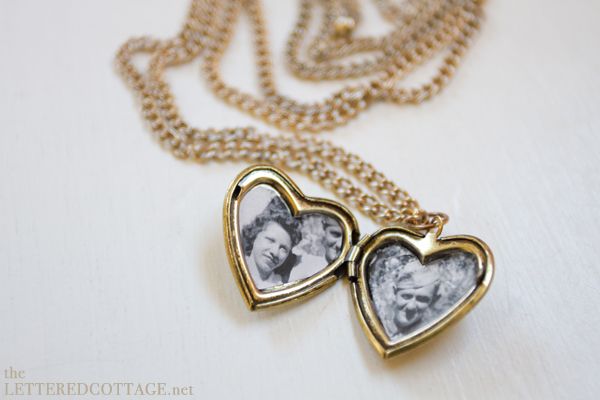 …and held hands with them (and Kev) as we climbed to 40,000 feet together on our way to Peru…
I clung and prayed…and felt lots of Comfort up there.
It was a life-changing trip in so many ways.

I didn't mention it before, but the last day we were in Lima we got to go shopping at a local market. I bought a few souvenirs for our moms and our nieces & nephews, and Kevin and I found a couple of things for ourselves, too. He got a bracelet made of Peruvian seeds, and I got four pieces of picture frame moulding. I found them in a big barrel, full of all kinds of different textures and lengths. I'll never forget scrounging around in there! I had a full-blown sinus infection at the time, and I was feeling heartbroken having just said good-bye to Fresia– but I did have fun getting lost in all those carve-y chunks of wood that day.
When we got back from Peru, I started to think about what picture I wanted to put in my frame. Once that was decided, I had to figure out how to put the frame together, sans power tools. Because we're still in the process of moving, all of our tools are still boxed up in a storage unit next to our old house. And because all of our tools are still in storage (and I wanted my frame together last week)- I decided to ask the friendly folks at our local True Value Hardware if they'd help me put it together. (Hey- it doesn't hurt to ask, right?!)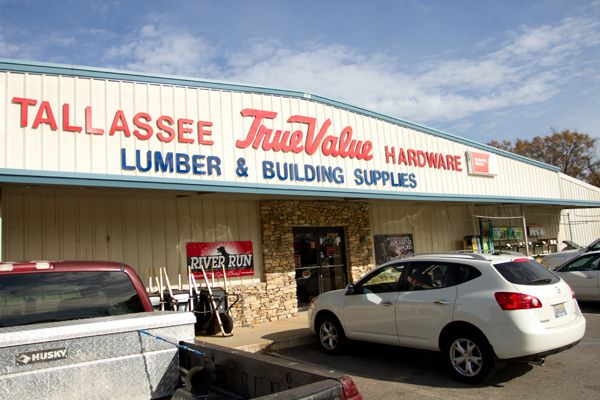 I didn't call ahead (#TypeZPersonality), we just marched in there and asked the man at the counter if he could help. He promptly pointed out back to the lumber yard and said, "Oh yeah, I'm sure Wade could do that". So off we went, in search of Wade.
We found him in the middle of working on something else, but he was kind enough to drop everything and help me with my frame…and with a smile to boot.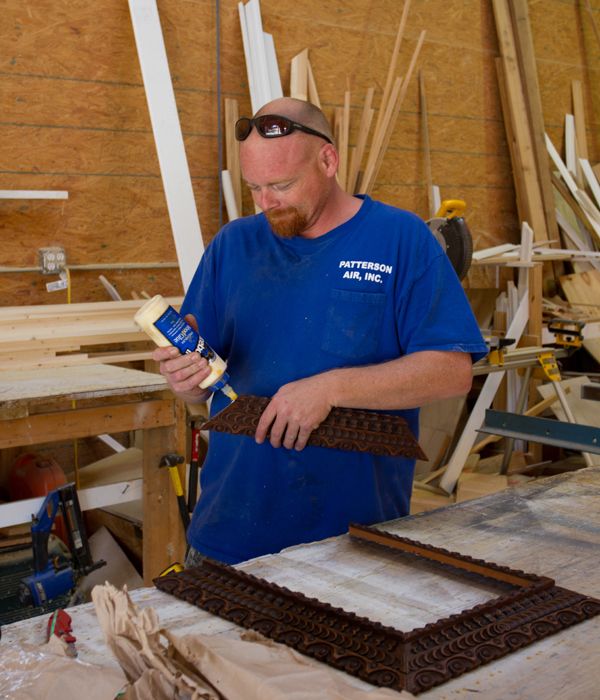 Here's the nail gun Wade used:
It shoots itty-bitty straight nails…perfect for frame-making.
And just for fun, here's a video of me and Wade, and my Peruvian picture frame:
(Google Readers and email subscribers will have to click over to our blog to watch the video: The Lettered Cottage)
What a nice guy, huh?
The photo I chose to put in it is an old picture of my grandparents that, up until this week, lived in a badly cracked frame made of glass. My dad gave it to me the last time I visited him, and asked me if I would do the honor of finding it a better home.
I found one, Dad!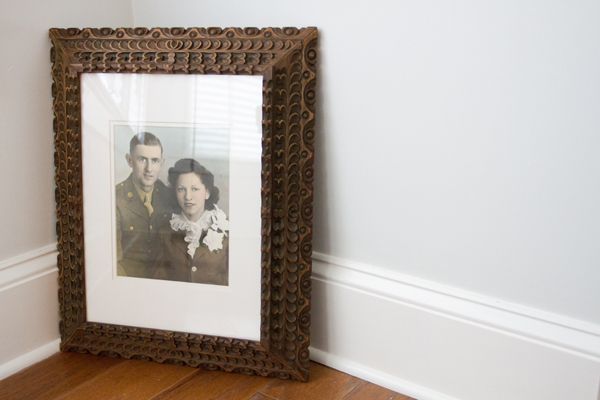 I haven't hung it up yet (still deciding on the right spot), but I feel blessed every time I look at it. My grandparents inspired me while they were here, and they continue to inspire me from where they are now, too.


This post is part of our 2012 True Value DIY Blog Squad series.