Homies
Well, the results are in , and we're feeling pretty humbled that 444 folks cast votes for us over at the Apartment Therapy "Homie Awards" this week…
Y'all landed our little, lettered love up in the Home Design Blog Finals!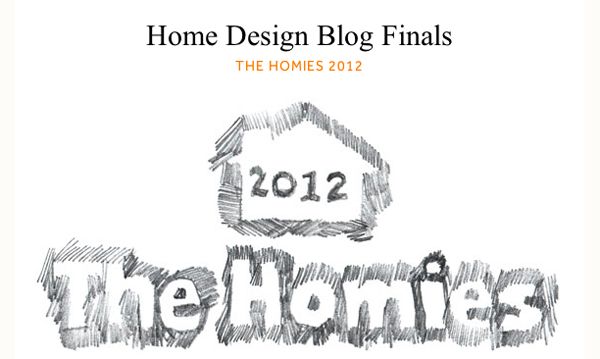 Voting ends on Friday, March 9th at 3pm (EST), so we'll see what happens. We were just tickled to pieces to make it into the Finals because we enjoy working so passionately on on these pages, and it means so much to know that so many friends and family members took the time to register for a username and password, and click on our blog's name because they believe in what we we're doing over here. So grateful to y'all. Truly, truly.
Like I said on our About page, our hope is that one day we can look back at all these posts and smile big about days gone by, and in the meantime, we hope everyone reading them will be inspired to laugh, learn and live it up with us, too!
The section below our posts is truly the best part of this blog, though. That's where it really comes alive. That's where it goes from a girl sitting alone in a room, typing out thoughts, and creating drawings & picture collages- to a girl sitting in a room full of friends that truly give this, otherwise one-dimensional thing, a pulse! We cherish the connection, and appreciate the spirit y'all inject here. You're such an encouragement, and for that (and a hundred other reasons) you matter to us.
And for those of you who visit to quietly read- thank YOU, too. I hope you feel welcome, and know how blessed we feel to have you here.