I did something outside my comfort zone today. I spent the afternoon at a hair salon.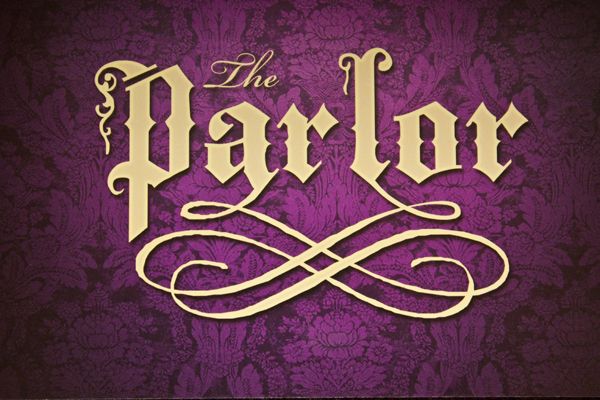 We're here in Atlanta to makeover a living room, but since it may end up on TV one day, I thought I'd better do a little "homie improvement" before we get to the home improvement stuff.
I've been wanting to warm up my hair for a while now, and I thought this would be a good time to go for it and have fun with it! My friend, Meghan, whose shop "The Parlor" is located near the Perimeter Mall, specializes in color.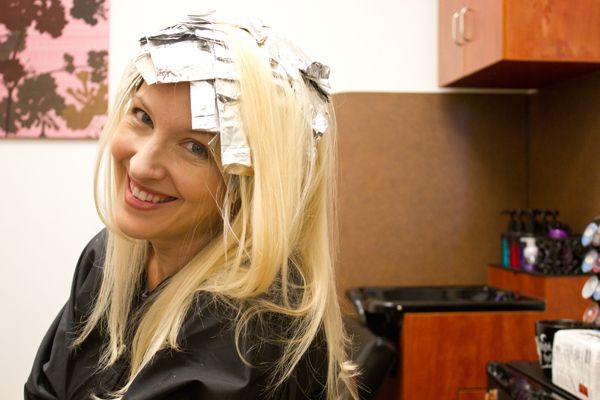 She doesn't cut hair…she only colors it. Amy (pictured below) came in and cut my hair after Meghan was done coloring it. Check out my new (warmer-so-I-don't-blend-into-light-walls-or-my-skin-so-much) hair color…
Amy was showing me how much more volume I could get with my new cut. I was really excited about that. (I have no idea if I'll ever actually be able to create it without her help, but a girl can dream, right?)
Amy also introduced me to something called a "curling stick"…
Me, Meghan (back), Amy (right), and our executive producer Patrick (far right)
It's a little different than a curling iron, and man I've gotta get one of those suckers! Totally natural-looking curls! (But holy scary-because-it-seems-like-you-could-get-burned-really-easily Batman!)
And even though I'll probably always spend more time thinking about home improvement than I do homie improvement, I gotta admit, it was fun hanging out with the gang and their curling sticks today.
The best part, however, was splitting a 1/4 roasted chicken plate with this guy in the food court at the mall across the street when I was done…
Now if I could just have Amy teach him how to use that curling stick.

__________________________________________________________
Join us on Pinterest, Twitter and Facebook!
___________________________________________________________
Need design inspiration? Need help with space planning?
Check out my e-book!