We love a collected look, and really enjoy decorating with both old and new home goods to create a fresh and inspired feel.
We started helping Kevin's brother Kerry re-decorate his family's living room a while back…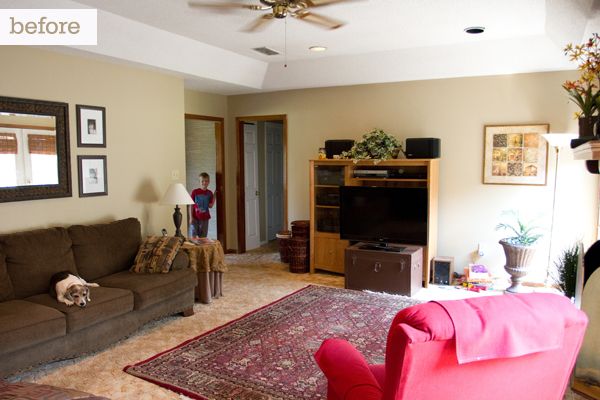 …and although it's not finished yet, it does look a lot different than the "'before" photo now.
Kerry started by painting the walls with Sherwin Williams "Aesthetic White", then Kev and I helped them spruce up the ceiling: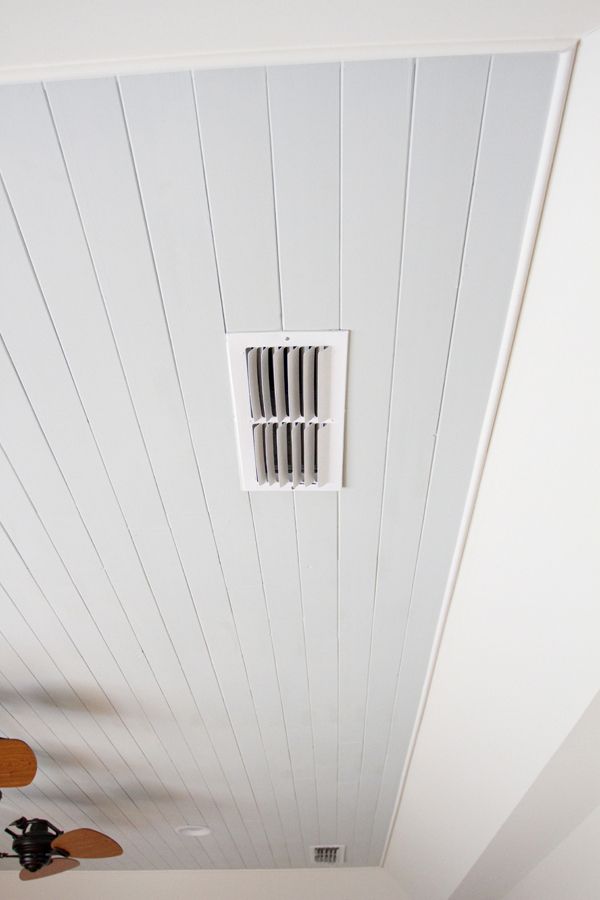 After that, Kerry hired our friend Wade to install some new, prefinished, hardwood flooring…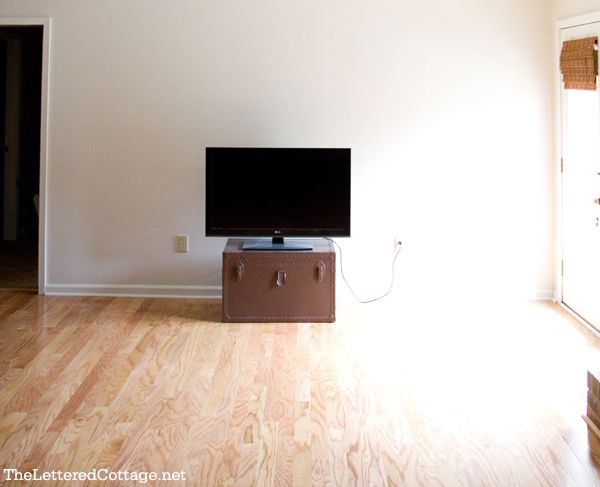 …and then they swapped out their TV trunk with a new entertainment unit from Ikea.
After that, and thanks to a gift card from HomeGoods, we all got together to shop for some Southern Living-inspired accent decor in Birmingham.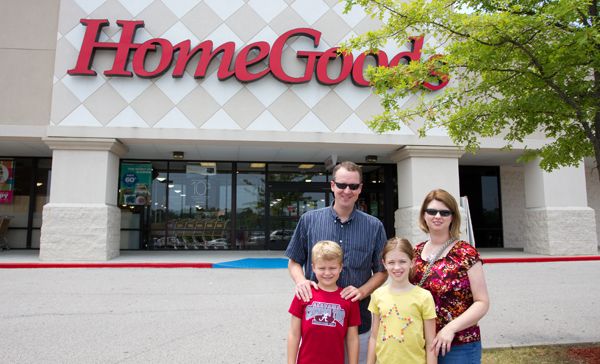 The hunt was fun, and we found lots of things they could use in their living room.
(Fun fact: Our niece found a dime, and our nephew found out he could open the cap with his teeth- ha!)
Fast forward to this past Wednesday. Kev and I asked Kerry if it would be alright to swing by their place (while they were at school and work) to do a little "surprise by design" style decorating. (Remember that show? I used to love that one!)
Kerry said yes (yay!), so we loaded up our car with a bunch of old stuff, and headed over to their house to mix it together with their new stuff.
Remember that table redo I blogged about the other day?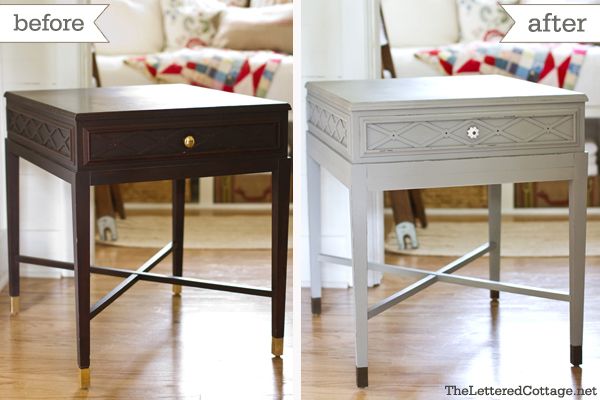 That was one of the things we left for them to find:
We snuggled it right up against their sofa (which they're replacing later on down the line), and topped it with their new HomeGoods lamp and twig-wrapped glass vase. Then we created more texture and character with some of the "old stuff" we brought from our house. A seagrass charger, a sand dollar, and the sailboat I made for our mantel a few months back. Everything came from a different place, (store-bought, handmade, found) but it all relates to each other either by color, texture or theme.
Underneath the table, we took advantage of the criss-cross braces by stacking the soda crate I made earlier this year on top of Kerry's old Holton trumpet. We loved how it made the table look more "alive" and substantial, and helped to hide the lamp cord a little more.
After the side table was all decked out, we focused our attention one of their wingback chairs…
One of our favorite quick-fix design solutions is to liven up older furniture with "new friends". Old chair- meet new tray table, throw pillow, table lamp, and ottoman. They all came from our HomeGoods excursion, but they look great with their new blue buddy. We're going to cut down the legs of the table next week so that it sits a little lower than the arm of the chair. It felt a little high when we were looking at it at the store, but it was on clearance for a super great price, so we thought it was worth snatchin' up- even if we we'd have to perform a little surgery later, ha!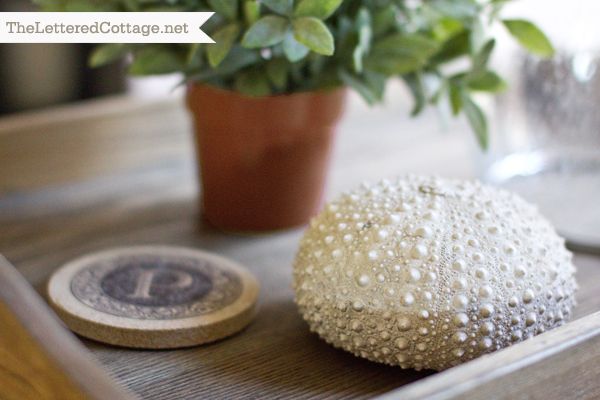 As you can probably tell, Kerry and Robyn wanted to give the room a bit of a coastal vibe, and that spiky little sea urchin (from HomeGoods) was the perfect finishing touch on top of the tray table. There's another wingback chair on the side of the fireplace, and we're looking forward to introducing that one to some new friends next week, too!
Last, but not least, we spent a little time accessorizing the shelves in their entertainment unit: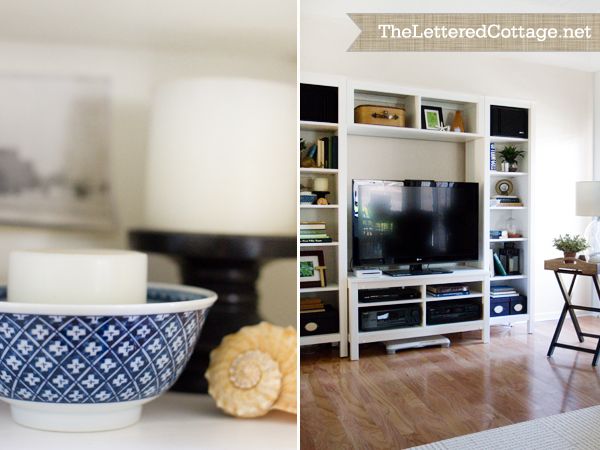 We shopped the house and used a mixture of both old and new elements (from our house and HomeGoods) that related by either color, texture or theme.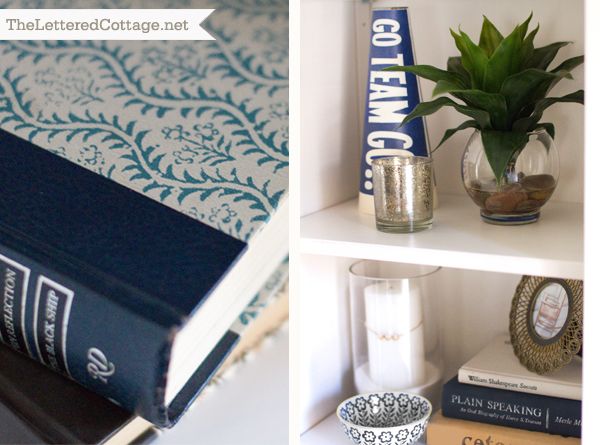 (We picked up the vintage Go Team Go! popcorn cone at a flea market earlier this year and since both Kerry and Robyn work in education, we thought they should have it!)
In the photos below, the snail and suitcase were HomeGoods purchases, and the navy blue boxes and plant & plant pot came from Ikea. Everything else was scooped up from around their house or ours.
(Oops! I just noticed that I probably should have asked Kerry and Robyn if I could label their blue boxes for them that day. #NextTime)
And speaking of next time, we're looking forward to getting in there and giving their fireplace a major makeover next week. That is, of course, if Dixie will allow us to temporarily relocate her wingback.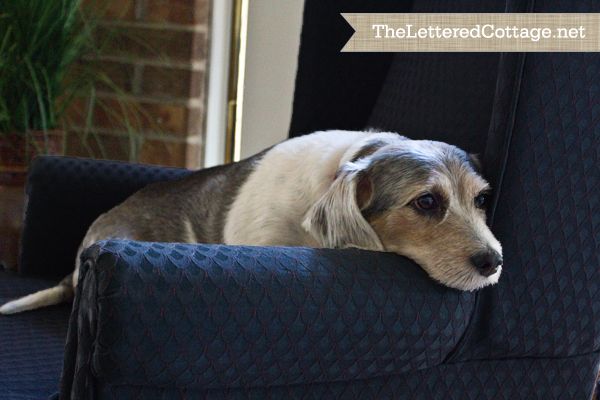 Wanna follow along with Kerry and Robyn's redo from the beginning? Here are links to all of our previous posts!
Living Room – Pick My Presto: August 25, 2011
Hemnes Entertainment Unit: July 2, 2012
Popcorn Ceiling: To Plank Ceiling: June 1, 2012
Wood Ceiling: Installation: June 6, 2012
Wood Ceiling: Installation Complete: June 13, 2012

PS- the winner of the $100 True Value gift card is:
Congrats, Katy! I'll be in touch with you soon!