Back in March, amidst the release of his premiere issue of Flea Market Style magazine, celebrity lifestyle and entertaining expert, Mr. Matthew Mead, was kind enough to take time out of his busy schedule to write a Foreword for my e-book, "Creating An Inspired Home".
I've been a huge fan of his for many years, but it wasn't until I read this post he wrote…
…that I finally mustered up the courage to write and ask him if he'd consider writing my Foreword.
After reading his post, I felt super-compelled to keep chasing my dreams.
And I felt particularly inspired to chase the one marked, "Work With Matthew Mead Someday" after I read it too!

Here's a snippet of some of the sweet things he had to say about my e-book…

He's a real "day maker" I tell ya!
————————————————————————————-
Matthew's Flea Market Style magazine was a hit, and I'm so excited to blog about a special announcement concerning his next exciting endeavour here today.
If you haven't already heard, Matthew is releasing a book-a-zine (book/magazine) called "Holiday with Matthew Mead" later this year.
(He's even asked your truly to contribute to the project, and I am beyond thrilled about the opportunity!)
Matthew is also on the lookout for something else to feature in "Holiday" too.
Check out what Team Holiday posted on their blog today…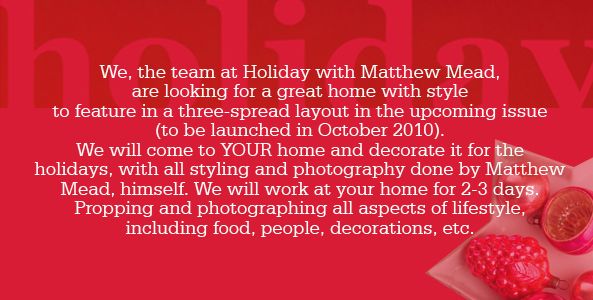 Is that not the coolest contest EVER!?
If you'd like to learn more about it, or you'd like enter by submitting photos of your home- hop on over to Holiday With Matthew Mead
If you'd like to post the Holiday Contest button on your blog, here is the button code…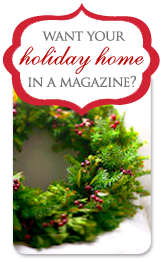 And last but not least, if you'd like to follow Matthew on Twitter or Facebook, click on these guys…


Good luck!
PS-
"Holiday" will not be available in bookstores or newsstands.
It's only available online, so if you're interested in ordering a copy, you can purchase it HERE.
————————————————————————————-
Need help arranging your furniture?
Need design help?
Check out my e-book!