At the top of the steps, and beyond the blue door, there's a 3′ x 11′ hallway…
Our laundry area and walk-in closet are on the left side of it, and our master bedroom sits at the end of it:
The folks from Dutch Boy paint are flying down to document the whole makeover for a new campaign they've invited me to be a part of, so I've been busy pulling together a design plan over the past couple of weeks. (Design plans I can wrap my head around, but how we're going to fit a crew of 8 or 9 in that hallway- I have no idea- LOL!) 😀
I've always wanted to install a countertop above our washer and dryer, and I thought it would be fun to use an old door vs. a traditional countertop there. We made a trip up to Southern Accents in Cullman last week to see if they had anything that might work. We looked through door after door after door, and then boom! At the end of the aisle, I spotted this:
Exactly what I didn't even know I was looking for! 😀
We brought it back home, and then sanded it and cut it to size. The smaller section will sit up along the back edge as a "back splash":
There was a lot of inconsistency color-wise, so I wiped on some wood conditioner today. I love that it'll help even things out, but I don't love that it turned the wood red-orange. Here it is wet:
And here it is dry:
I wasn't quite sure what direction I wanted to go in from there (I just knew that tone wasn't what I was looking for), so I tried out a couple of stains I had around the house. They both ended up looking too dark and too burgundy because of the red-orange tone underneath…
…so I sanded them back, and re-applied more wood conditioner to that plank.
Enter: the scrumptious wood we're going to use as shelves above the washing machine: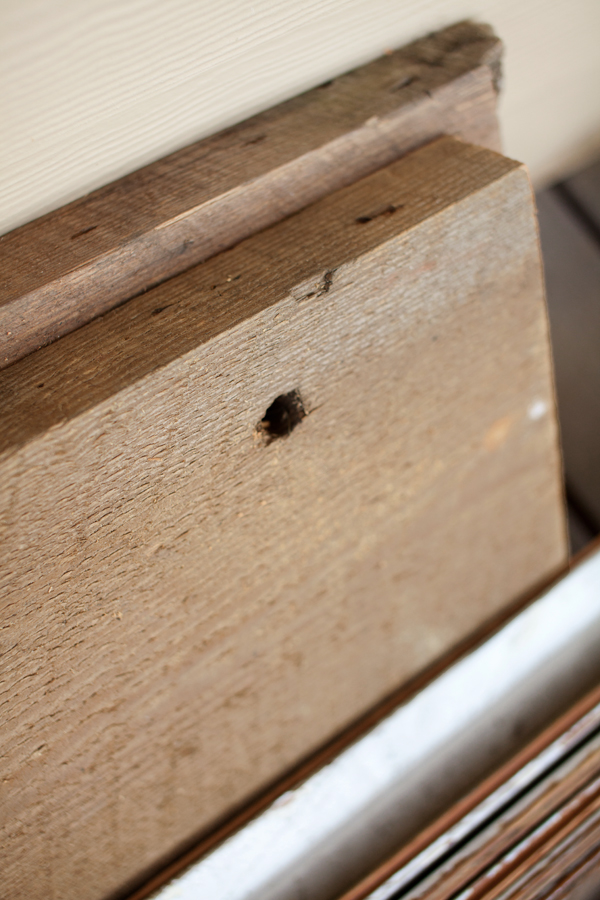 That was the tone I didn't even know I was looking for! 😀
I thought I'd try to mimic it by mixing one part Imperial Gray paint (I had a sample pot of it in our storage closet) with four parts water. I painted the mixture on to a sample piece, and then coated it with Miss Mustard Seed's Antique Wax and here's how it turned out:
I *think* it might work, so I'm going to mix up a larger batch tomorrow morning and give it a whirl before it gets too hot to work outside.
That's one coat of Dutch Boy's "Water Slide" on the other planks next to my sample plank. That's the color we're using on the walls in the hallway. It's sort of hard to tell in that photo, but it's a pale pistachio color, and I'm going to pair it with navy, white, and grass green. Here's a color inspiration board that'll give you an idea of what I'm thinking:
Hopefully I'll be back next week with a post about how great the Imperial Gray/Antique Wax concoction turned out! 😀 #FingersCrossed
Happy Weekend!