Ahhhhhhh! There's nothing like the smell of fresh vinyl flooring in the morning! Yesterday, we had to remove the toilet the previous homeowners installed (in 2003) so that Kevin could lay the rest of our new peel-n-stick planks underneath it. Neither of us had ever seen the bottom side of a toilet before, so we found ourselves faced with yet another unfamiliar renovation challenge. But I'm happy to announce that we somehow managed to pull it off, and now all of the flooring is installed. Woo hoo! Here's a little video we shot to document our day…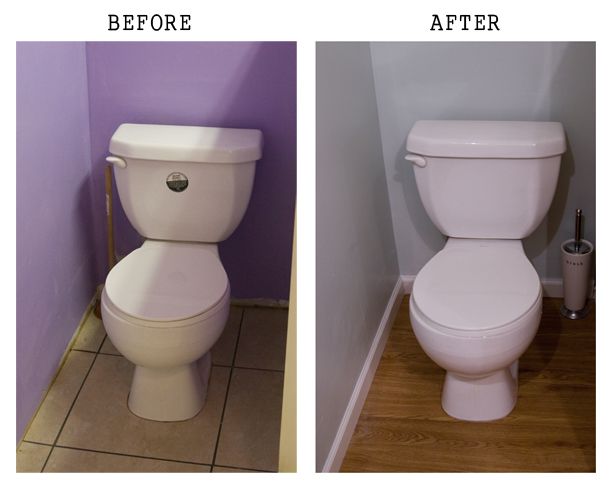 And there ya have it! A guest bathroom update and some "Def Lep" to boot!
What's that? You want to see a presto chango? Sure thing! Just move your mouse back and forth over the photo below for a more interactive image of our twenty dollar transformation…
It's amazing what a little peel-n-stick flooring, a couple of new baseboards, some fresh new paint and removing the "American Standard" sticker off the front of your toilet after two years can do. 🙂
(PS- the paint color we used is Sherwin Williams "Sea Salt")
Next up- cladding the ceiling in beadboard paneling.
I'm sure it's going to be quite challenging for us to attach two 4'x8′ sheets of beadboard paneling to the ceiling in the somewhat cramped quarters. It'll probably involve some math too. Ugh. I hate math! Especially if the equation goes anything like this:
2 ginormous sheets of beadboard paneling + 2 DIYer's that don't own a nail gun = several stressful minutes as one of the DIYer's races around with the electric screwdriver and the other tries to hold up the weight of the aforementioned paneling using as much strength as he can muster.
But no matter what happens, I'm sure we'll figure out a way to get it up there, and it'll just be another crazy experience we can look back and laugh at someday. (Key word: someday)
🙂
Happy Thursday!
Layla
PS- Our kitchen was featured as one of HGTV's Top Ten Favorite Kitchens on a Budget yesterday: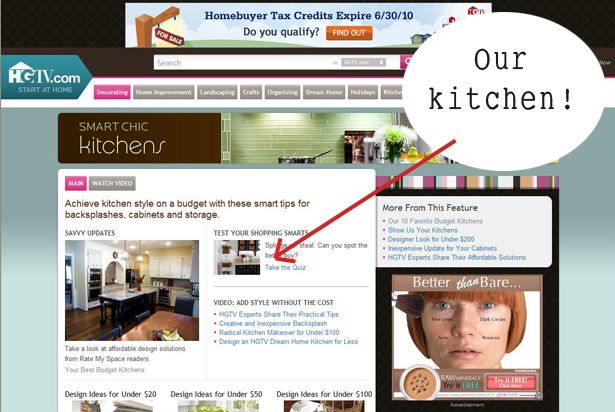 Click on the photo for the full story!