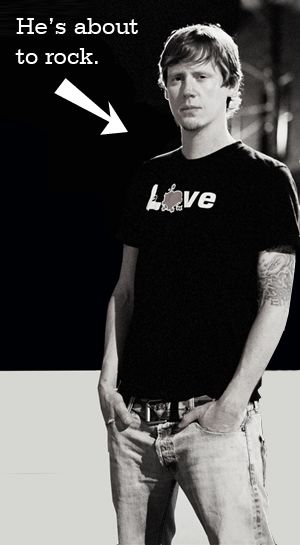 We interrupt this previously scheduled bedroom re-do to rock out.
Well, at least Kevin will be.
He's headed to Atlanta tonight to shoot the "back story" portions of the music video for his bands first single, "Heart in my Hands".
(The record will be released on February 8th, by the way. Woo hoo!)
From what I understand, there will be lots of running, jumping, and splashing. (one scene will be shot entirely under water!)
Unfortunately I can't be there with him tonight, but he's promised to shoot lots of behind-the-scenes footage (pics and video!), and he'll be uploading all to Twitter throughout the night.
If you'd like to join in on the adventure too, you can find our Twitter page by clicking on the icon below…
And I'm sure I'll be bloggin' all about the whole ordeal here within the next week too.
In the meantime, keep your fingers and toes crossed for him!
————————————————————————————-
Want sneak peeks of our projects before we blog about them?
Follow us on Facebook!
————————————————————————————-
Need help arranging your furniture?
Need design help?
Check out my e-book!