Well, I
wanted
to film a video of our latest junkin' excursion, but
somebody
with blonde hair, whose name rhymes with Kayla, forgot to charge the video camera battery the night before, so unfortunately this is all we got…
BUT,
we did have our regular camera with us, so we did manage to get a still shot of the vintage childrens schoolhouse table we got from a junk shop in Savannah…
Isn't it great!?
The top needs a little bit of work, but we'll have that big guy lookin' a little bit lovelier in no time!
I say "big guy" because it measures six feet long, but two and a half feet wide.
I think it's gonna make one heckuva killer coffee table in the living room!

We also settled on each rooms "color story" this past weekend too.
We'll be using lots of rustic reds, pale yellows, and various shades of blue and green.
I want the place to have a "farmhouse fresh/summer cottage by the sea" feel- so I think those colors (along with lots of chippy patinas, worn woods, and galvanized metals) will do just the trick!
Jane took me to her office the other day, and while we were there, she let me dig through her massive storage closet.
Boy oh boy did I find some great fabrics to use in the cottage!
Here's a sneak peek at a few of the palettes we're going with…
Kitchen…
(Bird-patterned fabric: Thibaut, discontinued.
Red & White Stripe fabric: Sunbrella, discontinued)
————————————————————————————-
Living Room…
(Painting: Bellamy,
Seahorse print: Rusty Cricket
Green & White polka dot fabric: Sunbrella
Paisley Fabric: Sunbrella)
————————————————————————————-
Front Bedroom…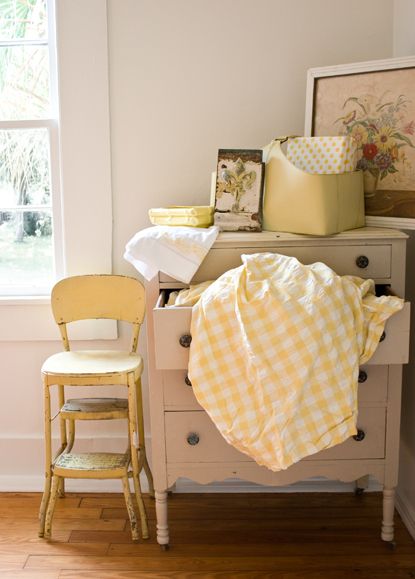 We're meeting with our handyman, Todd, today.
He's gonna help us hang stuff, build stuff, paint stuff and install stuff.
So assuming I remember to charge the video camera battery before we head over there-
I'll be back soon with more footage of our progress!

Ooh!
And I'll be back to announce the "Name the Cottage" winners soon too!
Ciao for now,
————————————————————————————-

————————————————————————————-
Need help arranging your furniture?
Need design help?
Check out my e-book!