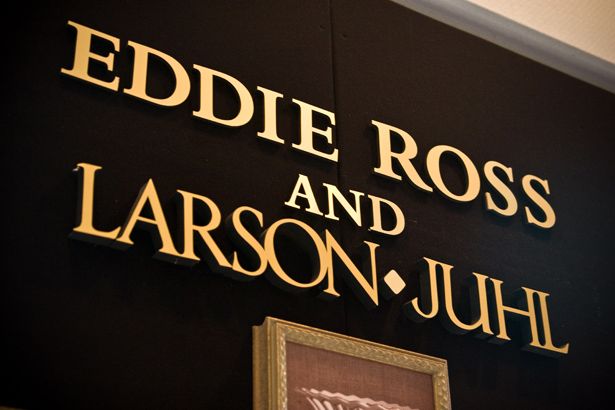 Before I tell you about our exciting day at Eddie's framing part yesterday, I just want to say that NeilMed Sinus Rinse is THE BOMB. After just three rinses, I felt much more like my old self again. I'm still not 100%, (and I did see stars a couple of times yesterday- is that weird?) but I think I'm getting better so thanks to those who recommended it!
Now, on to Eddie and Larson Juhl!
The Larson Juhl building was amazing.
The lobby was decked out with the prettiest floral arrangements…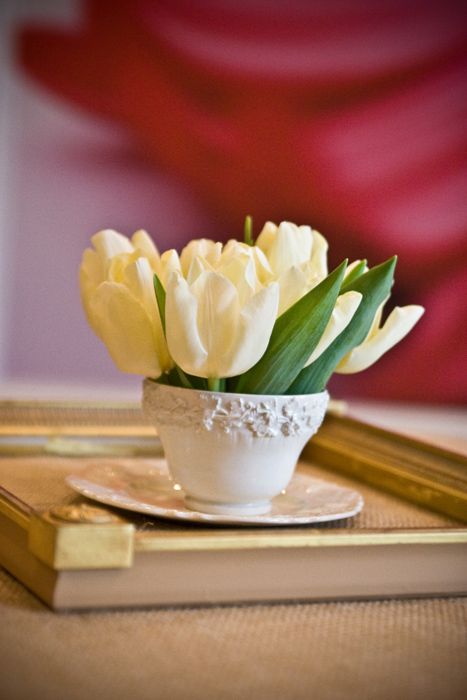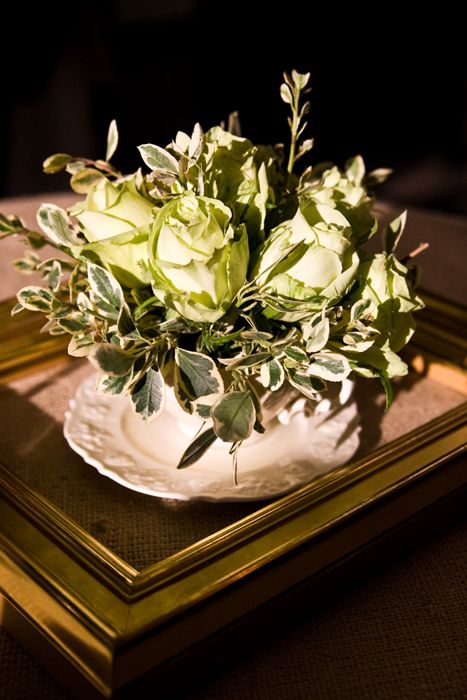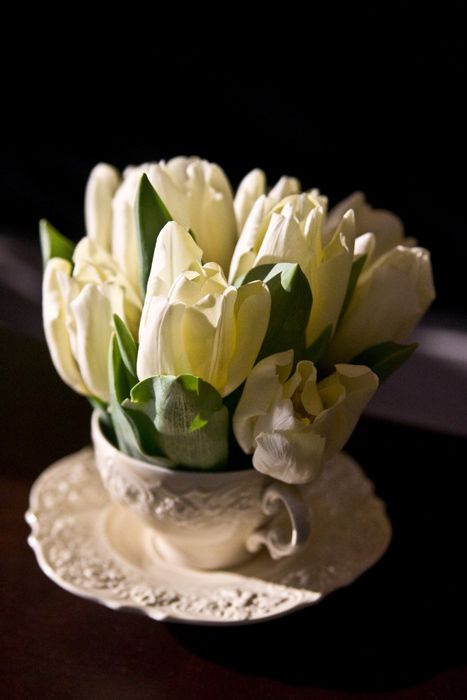 And the food they served was delicious!
Tea sandwiches, gourmet teas, lemonade, chilled wine, and miniature desserts covered several tables in the lobby.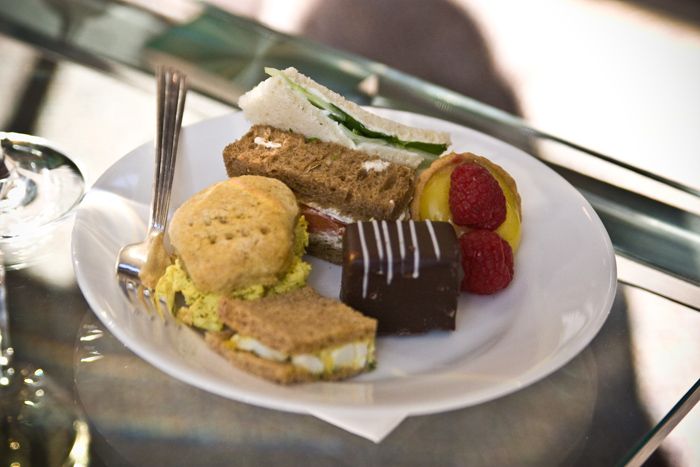 We all mingled and chatted for the first hour…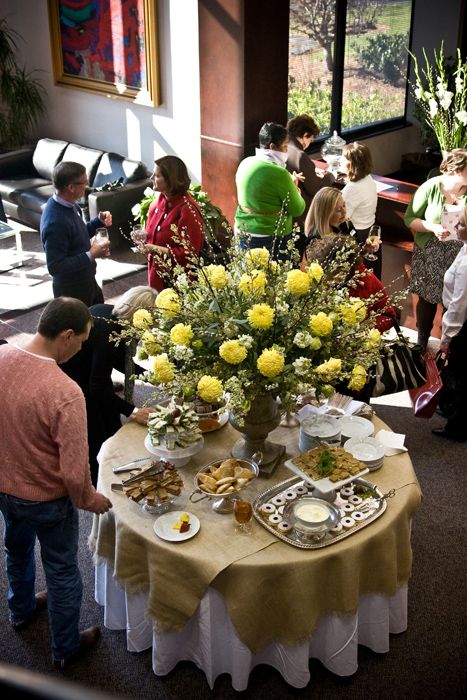 Then we all went into another room and enjoyed Eddie's presentation. It was wonderful and funny and informative. It was so neat to get design ideas from the man behind so many of the beautiful images in Martha Stewart Living magazine!
They gave away this framed canvas at the end of the presentation…
Eddie shot the photo and Larson Juhl printed it on canvas and framed it.
You'll never guess who won!
I don't want to totally give the answer away before she has a chance to blog about it on Monday, but here's a hint for all those that are extra curious:
check out her jacket.
🙂
After the raffle, we all went back out to the lobby for more food and photos.
Here's one of Kevin, Eddie and me…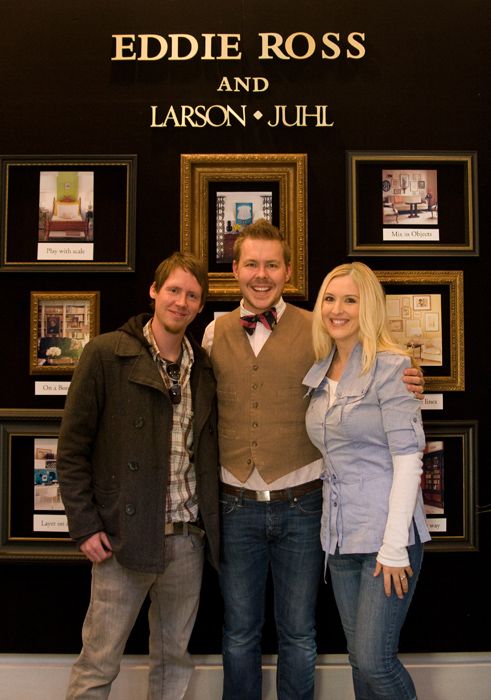 And from left to right, this is Renae Moore, Rhoda, Eddie, Mary Kay Andrews, me and Kevin.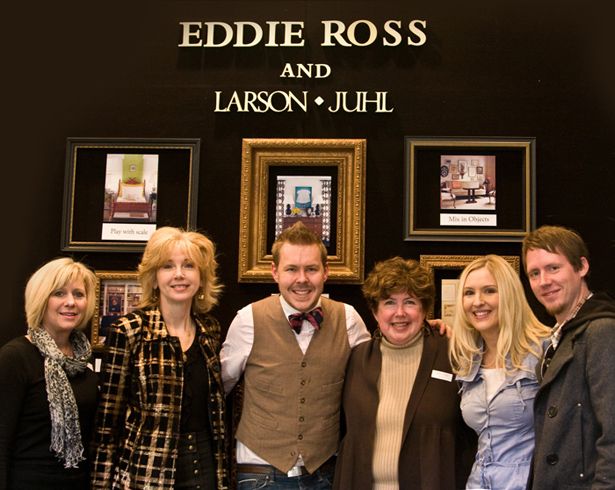 Mary Kay is one of my favorite authors. She wrote "The Fixer Upper" and if you haven't already read it, I highly recommend it!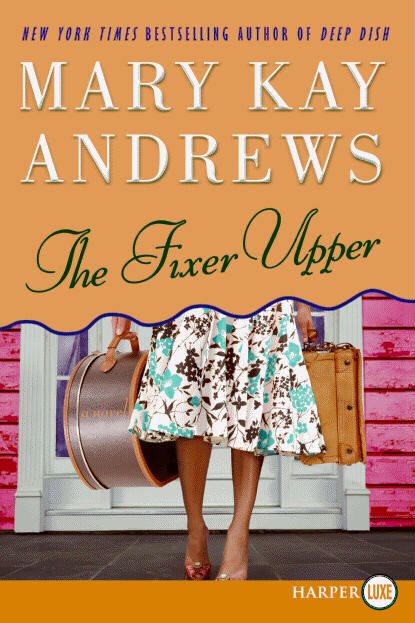 And last, but not least, I had to break out a little craziness at the very end of the soiree.
Move your mouse back and forth over the photo below to witness me letting my inner lunatic out. 🙂
Oh! And before I forget, the reason I asked for help translating the sentence written in French the other day is because I gave Eddie and Jaithan an old book I picked up at a flea market called "Grammaire Francaise".
It was such a neat little book, and after seeing the photo of the books on their mantel in Lonny magazine, I knew they would appreciate it's charm.

Photo: Lonny
Along with the sentence I blogged about the other day, it had some other things written in pencil inside the front cover…
I forgot to take a picture of it, but it also said, "Hattie Morgan. St. Marys. Raleigh, NC", and inside the back cover Hattie had written, "June 21, 1878".
I called St.Mary's in Raleigh, but unfortunately they've had a couple of fires and much of the information they had about students who were enrolled their in the 1800's has been destroyed.
🙁
The woman I talked to said they did offer a French class in the 1800's though, so I feel pretty confident little Miss Hattie was enrolled there.
Gotta love a 132-year-old flea market find!
Layla 🙂
————————————————————————————-
PS- I'll be back this afternoon to announce the winner of the Wish!