"Puffery".
That's the first word I heard this morning.
Kevin said it to me before he even opened his eyes.
"What?" I replied.
"I just had a dream that you were creating a new design style called Puffery". He answered, with his eyes still closed.
A giggle immediately shot up from my tummy and out my mouth.
"Really? What was it like?" I asked him.
"I don't know, I woke up right after you told me what it was called." He answered, now with his eyes open and a silly grin stretched across his sleepy face.
"That's hilarious." I said with a reciprocating smile. "I'm gonna have to blog about that tonight."
🙂
————————————————————————————-
So there ya have it.
My husband is now dreaming about fictitious design styles with really weird names.
Must be all the polyurethane he was exposed to in the guest bathroom.
Which, by the way, he's taken a well-deserved break from for a while.
Yeah, he was itchin' to start a project in a room with a bit more natural light, and I'm happy to report the changes he is making are looking sensational! He's looking forward to writing a blog post about the whole thing sometime within the next couple of weeks!
Anywho…
After our "Puffery" discussion, I hopped out of bed, scarfed down my usual breakfast of Marshmallow Matey's and a couple splashes of OJ, then headed in to my office for a few hours of design consulting.
Around noon, my stomach informed me that the Matey's had "left the building", so I slapped together some bologna and cheese and a couple of pieces of wheat bread. I'm a no-nonsense-I-don't-really-care-what-it-is-just-feed-me-now kind of eater. Plus, eating fast afforded me some time to squeeze in a little DIY project during my lunch break today.
Remember what I was dreaming about doing yesterday?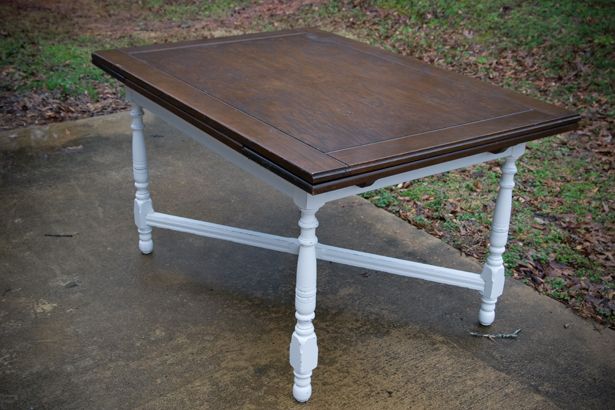 Well, I started doing it. 🙂
I sanded down our dining room tabletop!
As you can see, I painted the legs Sherwin Williams' "Alabaster" a couple of weeks ago. And believe it or not, they're actually pretty heavily distressed, but for some reason it's hard to see it in these photos.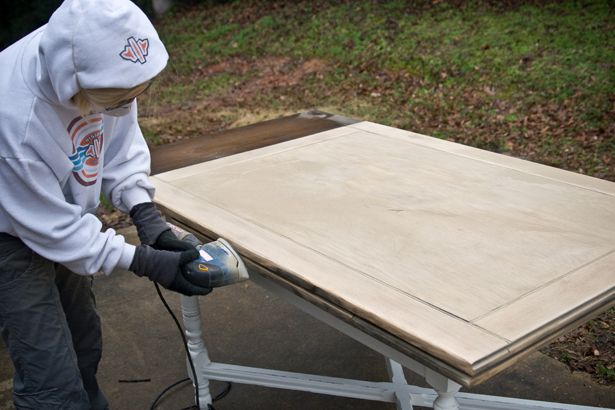 The whole job only took about an hour. First, I took the bulk of the existing stain off with a couple of 50 grit sanding pads. Then I went back over everything with a couple of 80 grit pads, and then a 120 grit pad to make the surface nice and smooth…
When I was done sanding, I created some faux "worm holes" to give the top a little more farmhouse style-charm.
I ended up just using the larger of the two nails, and I only had to tap on it two or three times to create each hole.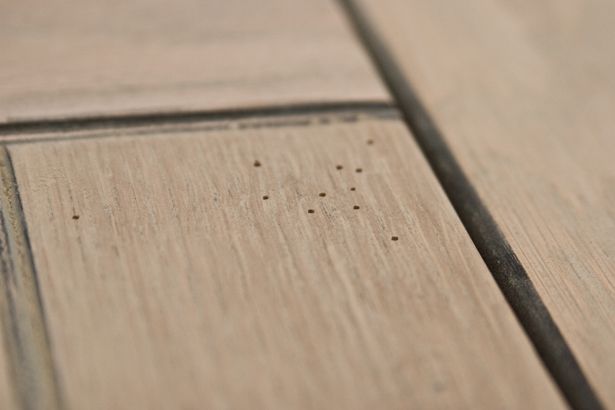 Tomorrow, (after my bologna and cheese) I'm going to attempt to give the newly-sanded top a whitewash/driftwood-look finish. I'm using these tables as inspiration:
Wish me luck, and have a happy Wednesday!
Layla
Have posts from The Lettered Cottage sent right to your INBOX!