Ever since we hung the bell up in our dining room, I've been on a "let's fix up the room some more" kick. But since there's not really any room in the budget to go crazy and do any major changes right now, I've had to really put my thinking cap on this time. Here's a couple of ideas I've been dreaming about lately…
1. PEELING THE CEILING
I know there's an original tongue-and-groove wood ceiling underneath the drywall that's currently covering the dining room now. And since tearing out drywall doesn't cost anything, and I've still got almost a whole gallon of
"barely blue"
paint, I think this re-do is a no-brainer!
Inspiration: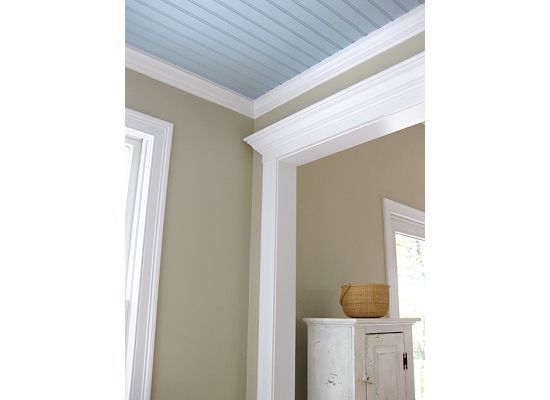 Photo:
Pewter + Sage
Key word in the paragraph above: "I".
Convincing Kevin that tearing down drywall and painting ceilings is fun may be tricky after his guest bathroom experience.
But it's worth a shot, right?
🙂
2. FIND MORE FLEA MARKET FURNITURE
I'm a huge fan of marrying a variety of sweet, old flea-market-find seating with a big, old flea-market-find dining table.
They just seem to make the cutest "couple".
🙂
Remember our big, old flea-market-find table?
Move your cursor back and forth over the photo to see it in action!


I must confess, we've already painted the legs a different color.
(I'll show you them soon!)
But after seeing the tabletop in the photo below- I am inspired to sand down the top of our table for a more rustic look…
Inspiration:



Photo: Country Living
Cost to sand down the tabletop: FREE!
And gathering a couple more quirky chairs won't cost us anything either because we've picked up so many of them over the past few years.

Photo: Country Living

I'll just need to scour the house to see what I can come up with for no-dough.
Wish me luck!
I'll leave you with some more blue ceiling/mis-matched chair inspiration from the dining room of the 2008 Country Living House of the Year:


In this room, the designer used a color called "Topsail" by Sherwin Williams (SW #6217)on the ceiling, and united the mis-matched chairs by painting them all the same, dark shade of paint, and re-upholstering them in a pretty, gray fabric.
Hope you enjoy the tour as much as I did!


Happy Tuesday!
Layla