See Jane…
See Jane save tumbledown cottages by the sea on Tybee…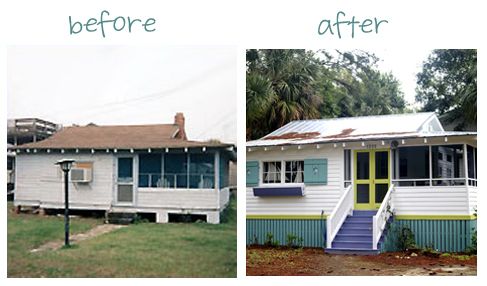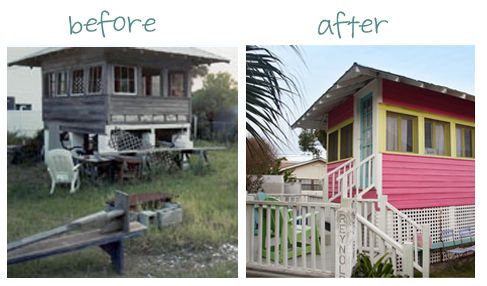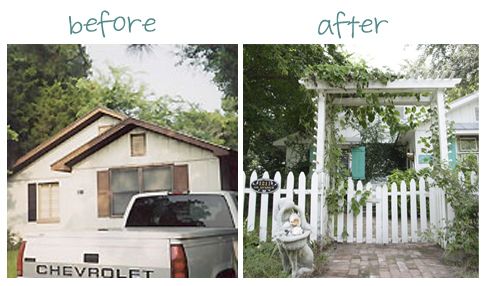 Jane has relocated, rebuilt and rescued over three dozen cottages on the island to date.
The Tybee Historical Society officially declared her their "soul and inspiration".
Check out some of her incredible interiors…
The first cottage she saved is called "99 Steps", because of where it sits in relation to the sea…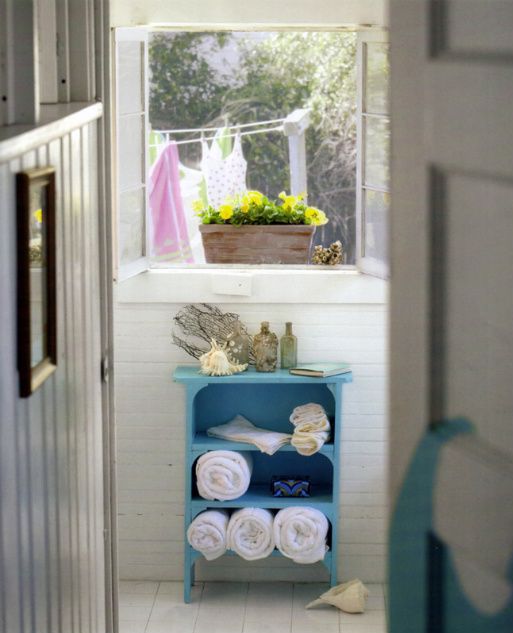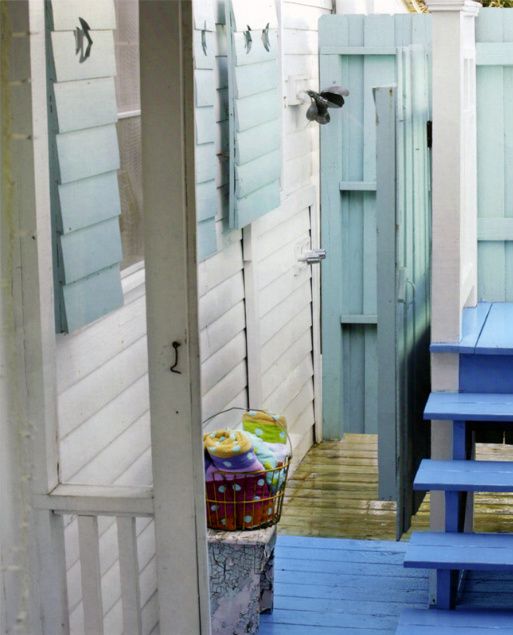 The path to the beach starts right in front of the cottage…
A few steps forward gets you here…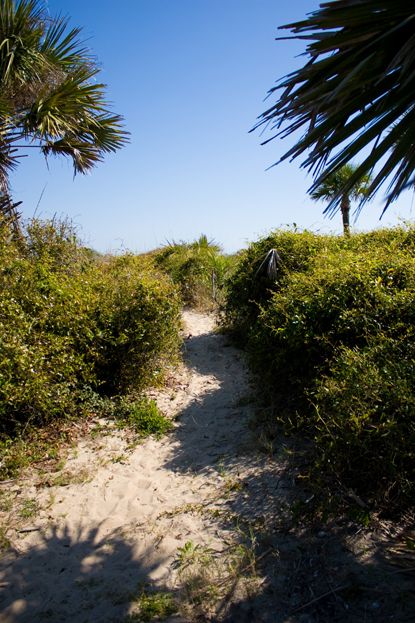 A few more gets you here…
And finally, 99 steps later, you're here!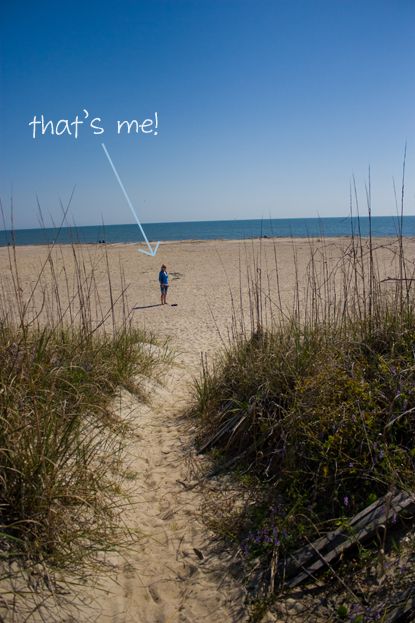 Jane still owns 99 steps, but she rents it out to vacationers now.
She also owns the cottage she lives in- "Bohemian Cottage".
She invited us over to see it and have supper one night while we were there.
You would not believe how magical her place is.
It felt like we had stumbled inside of a story book!
Sitting at her dining table, sharing stories with her and her boyfriend Joe was definitely a highlight of the night for me…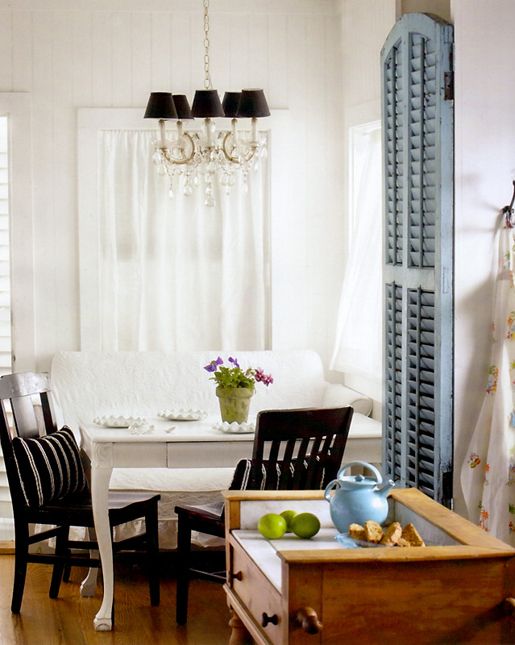 (Jane's Dining Room)
Jane was also sweet enough to escort us around the island several of the days we were there. We had a ball shooting footage of some of the cottages she's so lovingly restored and passed on to new owners.
I've always adored "Cottage Fryes" from afar, so I was pumped when she told us it wasn't being rented that day, and that we could see it in person…

(Photo: JaneCoslick.com)

(Photo: JaneCoslick.com)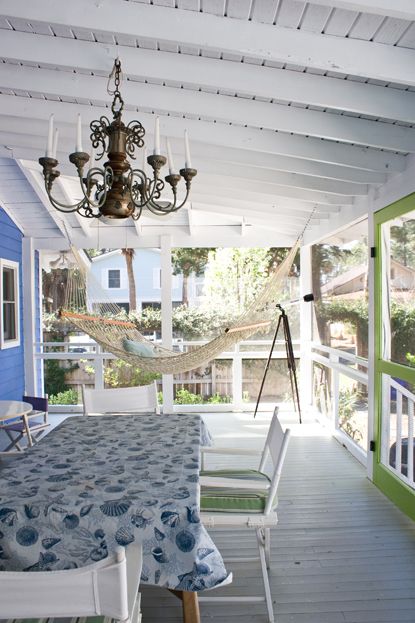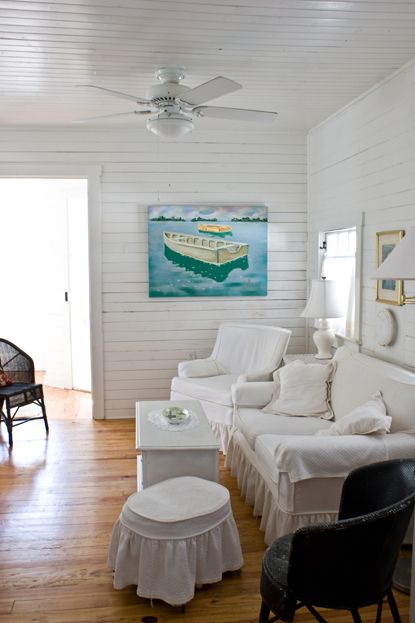 The bed linens were being washed the day we were there- but the place looked perfectly pretty without them!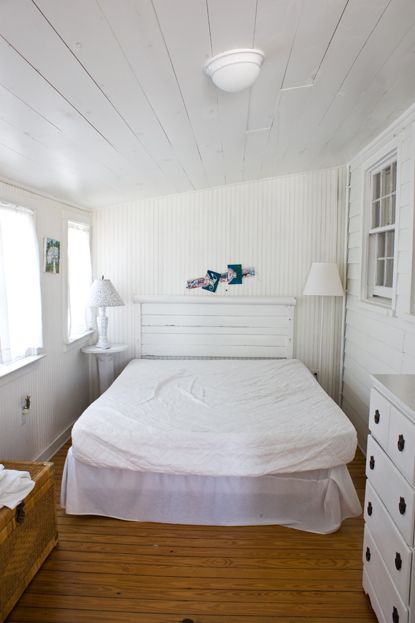 The cottages you're about to see were in rough shape when Jane bought them, but with loads of beadboard paneling, several gallons of white paint, updated light fixtures throughout, and a whole lot of hard work- she loved these old places back to life in no time. When she was done renovating, she found them new owners, and now they're also available for rent.
(Press the arrow button to play the video)
(Thanks to Diane from Mermaid Cottages for letting us snoop around "The Shrimp", and Jim from Tybee Cottages, for allowing us to look at "Cottage Fryes" and "Splash Shack"!)
————————————————————————————-
– There's just something about having a piece in a room and knowing you won't walk into the neighbor's house and find the same thing, so surround yourself with objects you love. Don't outfit your house to please the general public. If you would marry it, buy it.
– When you have a small house, everything has to have a function. A small passage next to a bedroom can be converted into a sitting area, showers can move outdoors, and sleeping porches can host coffee and cocktails.
– It's important not to overdo anything in a small, coastal home. Stick with simple, flowy curtains and Benjamin Moore's 001 white on the walls. Remember the pink color your neighbor selected to match her beach lily? It can end up looking like Pepto-Bismol in the wrong light. A blank canvas and lots of windows will make your home appear larger, allowing artwork and fabrics to really pop.
– To me, wood floors, walls and ceilings are just about the most important things in a house. It's always good to go with wood, even if your budget only allows it on a single wall.
– The more you know, the less you need!
————————————————————————————-
I hope you've enjoyed "getting to know" Jane as much as I have!
If you'd like to swing by her blog and say hello- you can find it HERE.
Her sunny outlook is so refreshing, and I look forward to the grand opening of her online store soon. I got a sneak peek of some of the things she's going to be selling, and lemme tell you- it's going to be one incredible shop!



————————————————————————————-
For more photos of Jane's work, check out these great books:
Cottages
by Brian D. Coleman and Douglas Keister,
published by Random House, 2007
The Southern Cottage
From the Blue Ridge Mountains to the Florida Keys
by Susan Sully, published by Rizzoli April, 2007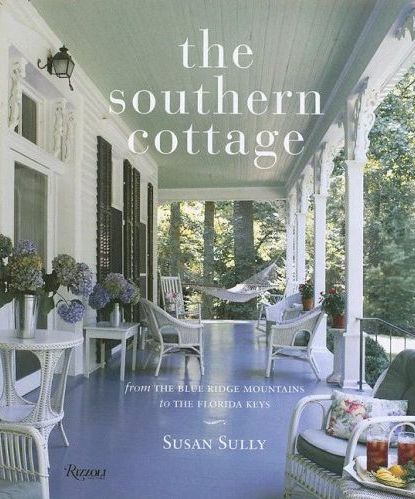 ————————————————————————————-
And if you're interested in who paints a lot of the gorgeous paintings featured in some of Jane's cottages, her name is Bellamy Murphy, and you can find her website HERE.