Today began like almost every day does.
First, consciousness.
(Wow that sun is bright….must get window treatments at some point)
Then my laptop.
(Wonder how many new emails and blog comments there are?)
Then a glance at Kevin to see if he's still asleep.
(Which he always is)
Then a glance at Max to see if he's awake.
(Which he always is)
Then the question he loves to hear me ask him, "do you wanna go outside and go potty?"
(Which, of course, he does.)
Then layers of clothes.
(Our heater broke earlier this month.)
Then outside with Max.
(Brrr!)
Then back inside for a bowl of Chocolate Cheerios, and a tiny glass of orange juice.
(Mmmmm!)
Same old, same old. Nice, but nothing too exciting.
Then all of a sudden, after a trip to the post office around noon, today quickly turned from same old, same old to supercalifragilisticexpialidocious!
I received the coolest little work apron from my new friend Polly…

I put it on in the car on the way home from the post office, and I'm still wearing it as I write this post at 11:00 at night.
🙂
I love it.
Thank you so much Polly!
————————————————————————————-
Polly's sweet gesture really got me thinking today.
Thinking about all the special, creative and thoughtful people I may never have the opportunity to meet in person, but whose thoughtfulness and talents will positively impact, contribute to, and influence my life.
We all know people like this.

They're risk takers, and "day makers".
They give and give, and expect nothing in return.
Their shiny, happy people.

🙂
My blog friend Erin is one of these people.
She inspired me without saying or typing a single word today.
She simply sent me an email with a smiley face in the subject line, and a photo of a page from this book in the body…

"She" by Kobi Yamada
She sent me the page that reads,
"She turns her can'ts in to cans, and her dreams into plans".
Isn't that the best line ever!?
I immediately forwarded Erin's email to my Mom, with hopes that it would have the same positive effect on her day as it did mine.
————————————————————————————
Then, while browsing the blog-o-shere tonight, I "bumped" into another friendly soul who brightened up my night with the strokes of her paint brush…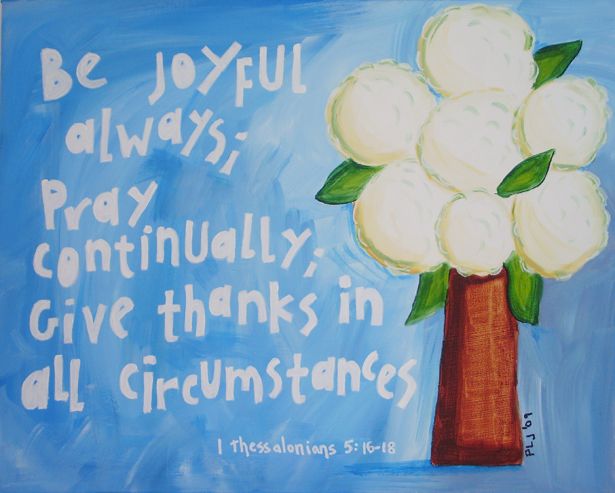 By Trish at The Old Post Road
They say that art is a collaboration between God and the artist, and that if you look closely enough, you can see angels in every piece. I certainly agree with that statement when it comes to Trish's beautiful paintings. This pretty picture brought me so much joy tonight!
————————————————————————————-
Well, it's close to midnight now, so I guess I better go crawl into bed.
But before I sign off, I'd like to send out a big ol' virtual bear hug to everyone reading this. It's an honor to have you visit my blog, and I hope you have a very happy and inspiring week!
🙂
Layla
————————————————————————————-
PS-
Just for fun….