"I am rooted to the land and I find myself often longing to turn onto the gravel drive…to swing open the creaky barn door…to follow the corn rows. Sunset and sunrise unbroken by buildings. Wind rustling. The heady scent of freshly-mown alfalfa. The rich earthy smell of the land at planting time and harvest. Wagons brimming with corn. Quiet. Stars studding the blackness."
-Audrey Kletscher Helbling


Happy Friday, y'all! 😀
The poll I posted at the end of Monday's post told me the majority of you want to connect via video on Fridays…
…and for the 24.9% of you who voted "No, thank you!"- I think what I'll do is keep blogging as usual. Meaning, there will always be words and pictures on Fridays, too. The vlog videos will just be an additional feature to the blog post. How does that sound? And don't forget, if you're not able to watch them because you read blogs somewhere you can't have the volume up, you can always come back and watch them here or on YouTube when it's more convenient. And if time length is an issue, I'm going to try to keep most of my vlogs under 3 minutes so they'll be a pretty quick watch. Maybe I'll create a separate page here on my blog to keep them organized too? I'll have to talk to my tech gal about that.
Okay, now onto today's post! It's about the color barn red. The neighborhood architectural review board (ARB) has to approve exterior paint colors around here, and since we're at the stage where we need to choose my in-laws barn color, it's time for us to pick the perfect rustic red. I scoured the internet to see what colors red barn owners prefer, but there were SO many suggestions out there and most of them didn't have an accompanying photo. And when I did find photos of barns that I liked, there wasn't a paint color listed. :-/
And speaking of researching barn stuff, y'all, WOW. Have you ever Googled "barn attached to house" before? Holy eye candy, Batman!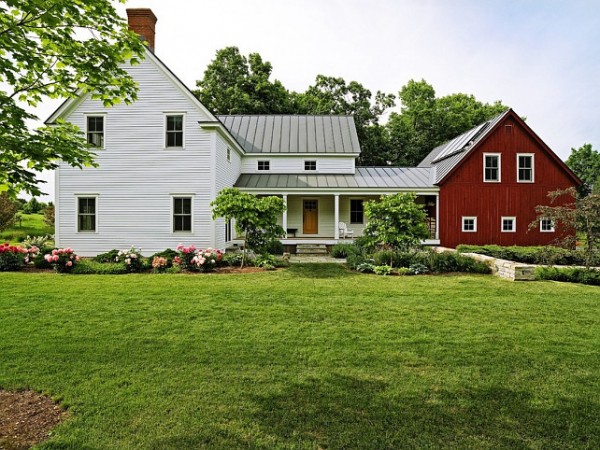 …and don't even get me started on this barn/house combo on the market for $64,500 in Stockton Springs, Maine!
The listing reads, "Set in the heart of the coastal village of Stockton Springs and just a short walk to the harbor, this 3 bedroom, 2 bath, circa 1853 home still has many period features such as original moldings, built-ins, hardwood floors and a fabulous, 2-level, 26′ x 32′ attached barn, thought to be the old stagecoach stop for the Stockton Springs to Bangor route. Ready for updating, this year-round home offers so much—including a 3-season porch, a large, sunny backyard, new wiring and an automatic generator installed in 2015."
Sure hope somebody snatches that sweet thing up soon!
Okay- back to barn red.
While I was researching colors, I also learned that farmers started painting their barns red in the late 1700s. Turns out they wanted to shield their barns' (unpainted) wood from the elements, so they began experimenting with ways to make their own protective paint. They came up with a recipe consisting of skimmed milk, lime, and red iron oxide, which created a rusty red-colored mixture that became super popular because it was cheap to make and lasted for years. Farmers were able to easily obtain the iron oxide from soil, and they noticed that the homemade paint kept the buildings warmer during the wintertime, since the darker color absorbs the warmth from the sun more than plain, weathered wood. Pretty cool, huh?
So, these are some of the colors I want to try samples of:
Benjamin Moore's 'Deep Rose':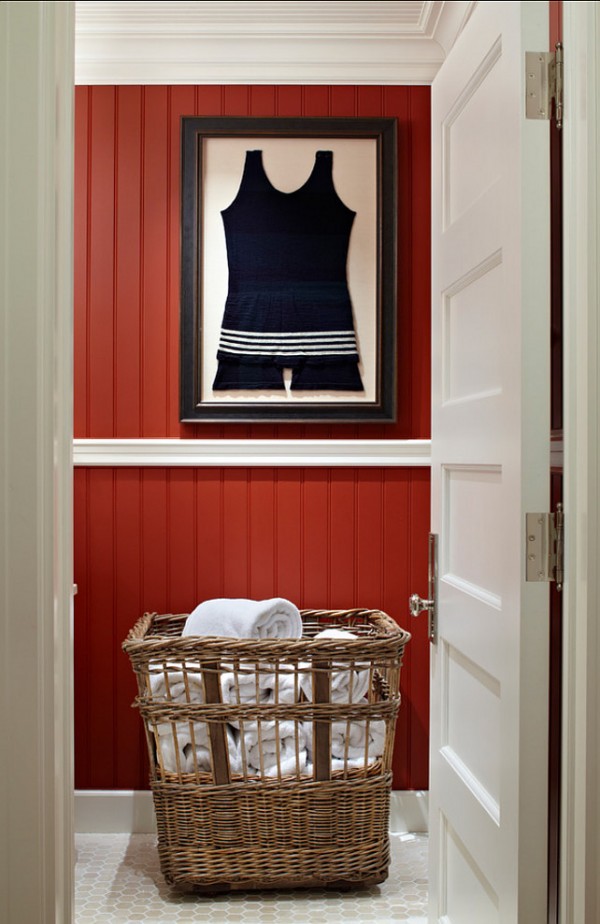 Benjamin Moore's 'Caliente':
Benjamin Moore's 'Heritage Red':
…which looks waaay too "cherry" on those doors, but I like the way it looks in the photo on the right.
I talk a little more in depth about all of them in today's vlog…as well as one more color I've got my eye on. And spoiler alert: I think it's going to be the winner. 😉 Click the play button on the video below to watch:
Do you have any other suggestions for me? Thanks in advance for any tips you can throw my way! XO

PS- the back of our house DOES face straight South…not Southwest. I was mixed up there. (I miss you, Tacy! XO)