Annie Sloan (and Shaunna West!)
We've got this piece of furniture in our hallway. It's handy, and it's dandy, but I've been dying to spruce it up with a little color…
I've also got a handy-dandy friend, who lives just down the road a piece. Her name is Shaunna West…
Her husband, Matt, texted me a couple of weeks ago and asked if I'd help him "keep her busy" for a while this past Friday so that he could put together a surprise birthday party for her at their house.
I love a good surprise, (and hanging out with Shaunna) so I put the ball in motion and asked her if she'd come over and help me paint the piece of furniture in our hallway with some of the Annie Sloan paint she's always raving about…
Within minutes of her arrival, we were sitting on the floor, knees-t0-knees, chatting it up about all things Annie Sloan.  I recorded a little bit of our convo on video because I love Shaunna's accent and I'm pretty sure you will too I thought maybe you'd like to get the scoop on this amazing product, too. Click the play button on the video below to watch…
I'm thrilled with how the piece turned out…
…and I can't wait to move it back into the hallway after the new hardwood flooring is installed in there next week!
The duck egg-colored inside/white outside combo was actually inspired by this photo of a corner hutch we shot at Maddie's on Jones two summer's ago:
What a fun place that was to stay and soak up inspiration!

I wasn't able to attend Shaunna's surprise party because we had family coming in from out of town that night, but today is her actual birthday, so I thought I'd throw her another little surprise party right here on our blog!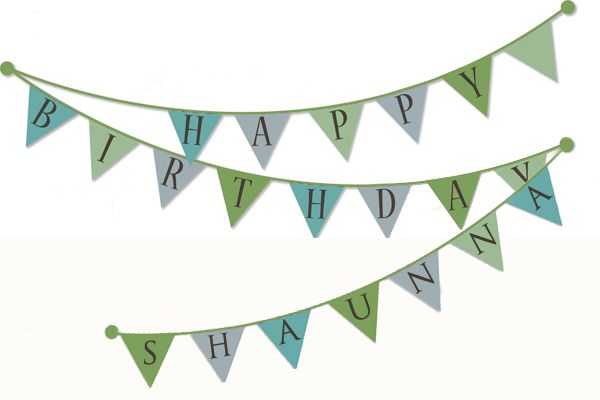 Shaunna- I'm hoping you'll use your imagination and envision all of the gals below (and everyone who comments on this post!) jumping out from behind furniture and yelling "Surprise!" and "Happy Birthday!" to you today!

Happy Birthday Shaunna! I've followed your blog for so long, it's hard to remember when I started! I enjoy keeping up with your randomness. I hope you will "splurge" with a big ole piece of your favorite white birthday cake. May this be a very wonderful birthday, and an even more fabulous year! Maybe this will be the year for that book. Wishing you all the happiness you deserve! Thanks for inspiring us, and sharing your ideas and tutorials! - Gail at My Repurposed Life

Shaunna, the friendship we've shared over the past few years has been one of the best blessings I've had from blogging. Between raising kids, loving our parents, honoring God and, don't forget, making our homes pretty, we've developed a sisterhood that just keeps on growing! You're a treasure and now that you're 30….we can also share being OLD. I love you, Happy Birthday! -Lisa at The Pennington Point

Happy Birthday, my sweet girl, Shaunna! You are a wonderful gift of light in blogland, and I'm so glad to call you my friend! – Rhoda at Southern Hospitality

Happy 30th, Shaunna! An exciting milestone for a passionate, sweet, and talented woman coming into her own. Your dynamic spirit shines so brilliantly through your blog! I'm inspired every day by your uncanny ability to open up and let us all in for better or for worse. Of course, your design work is stunning and you deserve the many wonderful things you have coming your way! Remember that. I hope you read these messages and smile, knowing that you are a mentor for so many of us. Oh, and go for that slice of cake today. You deserve it. Hugs! -Erin at Two Story Cottage
Dear Shaunna,
You're beautiful inside and out. While I've never met you in person, I have connected with you through your lovely blog. You are talented, kind, and willing to share your personal stories. I get a real sense of who you are. I wish you a blessed birthday and much continued success. Thank you for inspiring me! -Susan at Hometown Girl

Shaunna! Happy, Happy Birthday to one of the sweetest, most kind-hearted souls in this big ol' blogosphere. Your creativity and giving spirit inspires me every single day. I am thankful for you and your friendship! xoxo -Myra at My Blessed Life

Happy Birthday, Shaunna!  I'm so glad we became instant friends at Blissdom last year and I've enjoyed getting to know you even better since. I love your sense of humor, your openness and your eternal perspective.  I can't wait to see what the Lord has in store for you for this next year of your life! -Marian at Miss Mustard Seed

Dear Shaunna, I want to wish you the happiest of birthdays! You are such a beautiful spirit, and I am so blessed to call you "friend!" Love you bunches! -Traci at Beneath My Heart

So, apparently, 30 is just the beginning of the good stuff in this giant par-tay called life, and I'm thrilled I get to be a part of this celebration with you! In the great metaphorical "www" we've decided to dive into, I still breathe a giant sigh of relief that I have the cool gal next to me in my 'cubicle.' You know, if these were real life office jobs, you're the one I'd peek over the wall and laugh with. No need to say it. You got a good cubicle. ;} From lamenting over our children's potty training adventures, to trading places as sounding boards in design ideas, I can't express how much the little things have meant to me. I'm pretty sure you've listened to me spaz and do the awkward laugh/cry on more than one occasion- so, thank you. My life is blessed with you in it. For simply being the calm and cool, level-headed, inspiring YOU that you are. I love you dearly, and hope this is your best birthday to date, my sweet friend! -Ashley at The Handmade Home

My Dear Southern Belle, It should be no secret that becoming friends with you has been a highlight of my blogging career. It only took a 5-minute endless car ride to know that I was smitten with you, and that we could very well be friends forever. I wish we didn't live so far apart, but I'm so glad that our computers help us close that gap. You are an absolute ray of sunshine, m'dear! I hope you have the happiest of birthdays! Hugs to you, Shaunna! (And I'm not just saying that–like, a real hug to you. If I could.) -Chris at Just A Girl

Shaunna, Thank you for your inspiring space in blogland! Perfectly Imperfect has become one of my most favorite blogs to read over the last several months. I love all of your projects, your gorgeous home, & most of all your beautiful personality! Thank you for being so real & down to earth with your readers! Every time I visit, I feel like I'm having a chat with an old friend! I wish you continued success in this upcoming year! -Tonya from Love of Family and Home
Shaunna,
I read a quote one time that said, "most of us don't need a therapist as much as we need a friend to be silly with". Thank you for being the best kind of therapy this wacky ol' girl could ever ask for, and for helping me paint my furniture with your paint last week- LOL! Love you, and Happy 30th Birthday!

PS- Wanna see more of the birthday girl's furniture painting tips and techniques? Click on the banner below to check out her e-book, Creating Your Masterpiece. It's chock full of information, photos and videos that will inspire you to break out the brush and have some fun!