Hi! I'm Layla Palmer, and my husband and I live in the deep South. Pike Road, Alabama to be exact! I named my blog The Lettered Cottage because of my passion for writing, and my love of cottage style.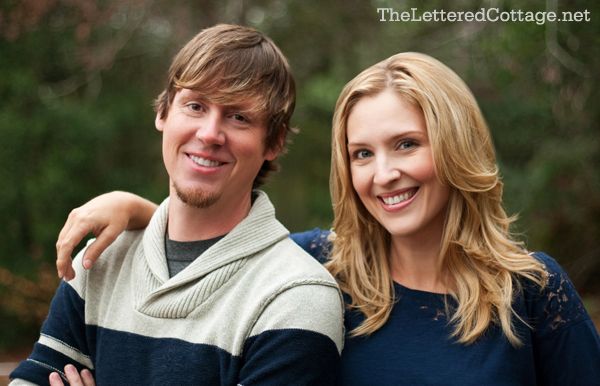 By day, (and some nights!) I author this blog and host twice-a-month t-shirt sales over at BlogThreads.com. My musical hubby leads worship team at Centerpoint Fellowship Church and teaches people how to use their DSLR cameras and Photoshop over at ShootFlyShoot.com. Together, we produce articles for HGTV.com, and photograph & style interiors for a handful of home magazines.
On the family front- we're in the process of adopting our son from Haiti right now, and after ten wonderful years of being a two-some, we're excited about experiencing life as a family of three next year!
If you're new here you may want to start by checking out some of my most visited pages and posts:
Pick My Presto (Reader submitted room makeovers using Photoshop)
You can also check out our archives page to see a list of all my posts by date.
I love using Instagram, Facebook and Twitter, too!
I usually blog three times a week (Mondays, Wednesdays and Fridays), and you can subscribe via RSS if you'd like to get an email whenever I publish a new post.
My blog is a custom design created by Bethany Hway and me. My post font is Georgia and my cursive font is Sunshine in my Soul. TheLetteredCottage.net is a self hosted blog through WordPress.org and we can't say enough good things about our tech-friends, Tony Oravet, Shauna Callaghan, and Beckie Farrant, who is blog biz genius!
There's excitement in not knowing what you're going to reveal about yourself or your surroundings from one day to the next- and my hope is that one day we can look back at all these posts and smile big about days gone by. And in the meantime, I hope you'll be inspired to laugh, learn and live it up with me, too!