My Mom's in town for a visit today, so Giveaway #2 will have to be a surprise!
If you'd like to throw your name in the hat, just leave a comment on this post between now and ten o' clock p.m. (Central Time).
And thanks to everyone who said sweet things about the Whiteflower Farmhouse stockings yesterday! I used a WordPress plugin called "And the Winner is" to draw the name of the person who won them…
Congratulations Bernadette! I'll be emailing you soon to get your mailing address from you!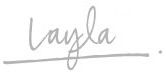 PS- Congrats to @kristen_ellwood for correctly answering today's Twivia question on Twitter! The question was: How many gallons of paint does it take to cover the White House? 570, 670, or 770?  Answer:570!
——————————————————————————————————–
Join us on Facebook or Twitter!
————————————————————————————-
Need help arranging your furniture?
Need design help?
Check out my e-book!